| | |
| --- | --- |
| CODE | 106705 |
| ACADEMIC YEAR | 2023/2024 |
| CREDITS | |
| SCIENTIFIC DISCIPLINARY SECTOR | ICAR/18 |
| LANGUAGE | English |
| TEACHING LOCATION | |
| SEMESTER | 2° Semester |
| TEACHING MATERIALS | AULAWEB |
AIMS AND CONTENT
LEARNING OUTCOMES
The module will focus on the study of the interdisciplinary dialogue between film and architecture. Starting from the early days of cinema we will consider the two disciplines' engagement with a range of styles and art movements. We will explore how specific typologies of spaces are represented on film and, at the same time, focus on the spaces of exhibition– the movie theatre, but also the museum and the built environment as a site for film and media projection, with particular attention to the element of sound and acoustics in film and architecture.
AIMS AND LEARNING OUTCOMES
The module aims to provide a critical framework facilitating meaningful interdisciplinary dialogue between film and architecture, considering both cinematic representations of the built environment and the ways in which these representations have influenced architectural practice.
On successfully completing the module students will be able to demonstrate:
A detailed understanding of the relationship of cinematic arts to architecture and the built environment.
Systematic interdisciplinary knowledge regarding the histories and theories found at the intersection of architecture and film, including technical considerations.
The ability to critically analyse and form considered judgements regarding the aesthetic treatment of architecture in film.
PREREQUISITES
None
N.B. Students will require English language skills equivalent to CEFR level B2 or higher in order to meaningfully engage with course content; however, it should be stressed that the assessment process focuses on developing research skills and privileges an awareness of core concepts over finer issues of language proficiency.
TEACHING METHODS
Lectures, discussions, in-class analysis of seminal works.
Classes are held in person. Attendance, although not compulsory, is recommended. No remote learning is available for this course.
SYLLABUS/CONTENT
Key Topics
Historical and cultural constructions of space in cinema
Cinema as urban critique
Cinematic representations of the 'global city'
The role of sonic narratives in the creation of virtual spatial experiences
Utopian and dystopian cinematic urbanism
Visionary architecture and the cinematic arts
Course content does not differ for attending and non-attending students.
RECOMMENDED READING/BIBLIOGRAPHY
Indicative Reading
Barber, S. (2004). Projected Cities: Cinema and Urban Space. Reaktion.
Bruno, G. (2002). Atlas of Emotion: Journeys in Art, Architecture, and Film. Verso.
Cairns, G. (2013). Architecture of the Screen: Essays in Cinematographic Space. Intellect.
Clarke, D. (1997). The Cinematic City. Taylor & Francis.
Lamster, M. (2000). Architecture and Film. Princeton Architectural Press.
Mennel, B. (2019). Cities and Cinema. Routledge
Pallasmaa, J. (2007). The Architecture of Image: Existential Space in Cinema. Rakennustieto.
Penz, F., Koeck, R. (2017). Cinematic Urban Geographies. Palgrave Macmillan.
Shonfield, K. (2000). Walls Have Feelings: Architecture, Film & the City. Routledge.
This list is not exhaustive and is subject to change. The course has NO SET TEXT. These core works will be supplemented with articles made available throughout the semester. Further bibliographic indications and guidance regarding the MANDATORY RESEARCH PROJECT will be given upon module commencement. There are NO ADDITIONAL TEXTS for non-attending students; those intending to sit the exam without attending the lessons are advised to make themselves known to the course coordinator, to ensure that their research projects meet minimum requirements.
TEACHERS AND EXAM BOARD
Exam Board
JOEL ALEXANDER CATHCART (President)
PAOLA VALENTI
ALESSANDRO FERRARO (Substitute)
LESSONS
LESSONS START
Lessons begin in February 2024.
Class schedule
L'orario di tutti gli insegnamenti è consultabile all'indirizzo EasyAcademy.
EXAMS
EXAM DESCRIPTION
Oral examination. Students will be required to develop, present and discuss a personal research project which interfaces with the module's principal themes and critical framework.
Bibliographical guidance and feedback regarding the chosen research topic will be provided periodically throughout the course in order to facilitate student self-assessment regarding core research skills. Active participation in this process will be considered as part of the final evaluation.
Personal research projects must be submitted to the course coordinator via email at least 10 days prior to the chosen exam date.
ASSESSMENT METHODS
Originality of the chosen research topic
Detailed understanding of key theoretical concepts, historical and cultural contexts
Analytical clarity and nuance
Communicative skills
Appropriate use of terminology
Bibliographical awareness (not limited to content directly referenced during contact hours)
Exam schedule
| Data | Ora | Luogo | Degree type | Note |
| --- | --- | --- | --- | --- |
| 21/12/2023 | 15:00 | GENOVA | Orale | |
| 23/01/2024 | 15:00 | GENOVA | Orale | |
| 06/02/2024 | 15:00 | GENOVA | Orale | |
| 07/05/2024 | 15:00 | GENOVA | Orale | appello riservato ai laureandi della sessione estiva |
| 18/06/2024 | 15:00 | GENOVA | Orale | |
| 02/07/2024 | 15:00 | GENOVA | Orale | |
| 12/07/2024 | 15:00 | GENOVA | Orale | |
| 10/09/2024 | 15:00 | GENOVA | Orale | |
Agenda 2030 - Sustainable Development Goals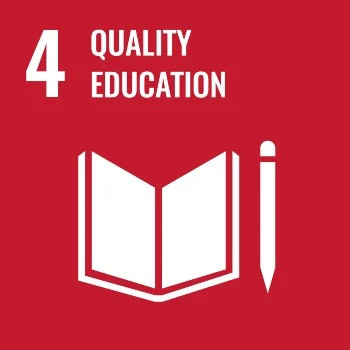 Quality education