| | |
| --- | --- |
| CODE | 111204 |
| ACADEMIC YEAR | 2023/2024 |
| CREDITS | |
| SCIENTIFIC DISCIPLINARY SECTOR | M-STO/04 |
| LANGUAGE | Italian |
| TEACHING LOCATION | |
| SEMESTER | 2° Semester |
| TEACHING MATERIALS | AULAWEB |
OVERVIEW
The course deals with the topics of the industrial development and the transformation of labour in the contemporary age (XIX-XX-XXI centuries). Specific attention will be paid to the history of industry and of labour in Italy in the mentioned centuries, linking all that to a broader international context. The historical analysis will be continuosly related to the understanding and the utilization of the main methodological and conceptual tools of the economic science.
AIMS AND CONTENT
LEARNING OUTCOMES
The course aims to analyse a long process of economic and social changes which have built and describe modernization. The main goal is to present a complete and detailed picture of such a transformation and at the same time to offer analytical keys in order to better understand today economic and social context.
AIMS AND LEARNING OUTCOMES
Knowledge and understanding: students must acquire adeguate knowledge and effective understanding of the operation-mechanisms of economic systems in a comparative and long-term perspective.
Ability to apply knowledge and understanding: students must learn to apply acquired knowledge and understand problems related to the current economic context as a result of its historical evolution.
Judgment Autonomy: students must be able to use both conceptual and operational skills acquired with autonomy of judgment and skills in different application contexts.
Communication Skills:students must acquire the technical language of the discipline to communicate clearly and unambiguously to specialists and non specialists.
Learning Abilities: students must develop adequate learning skills so they will be able to elaborate autonomously the key issues of the discipline, especially in the working contexts where they will operate.
PREREQUISITES
Basic knowledge of the most significant moments and processes ot contemporary history and economic history the economy learnt in a first level university experience.
TEACHING METHODS
Lectures, seminars and workshops on specific topics.
SYLLABUS/CONTENT
World economy and its transfomations in the period 1850-2000. The different industrial revolutions, Economic develpoment and international (economic) relations.Hegemonies and backwardness..
History of the italian industrialization (and deindustrialization)..
History of labour in the contemporary age..
Industry, labour and politics..
Economic policies. Economic models in comparison..
The firm. Stetegies, structures, markets.
RECOMMENDED READING/BIBLIOGRAPHY
G. Della Valentina, S. Licini, Ombre e luci. Storia economica d'Italia dall'Unità a oggi, Milano, Mondadori Università, 2018
S. Musso, Storia del lavoro in Italia dall'Unità a oggi, Venezia, Marsilio, 2011.
Further materials will be presented during the course and, if possible, uploaded in aulaweb.
TEACHERS AND EXAM BOARD
MARCO DORIA
Ricevimento: To meet the Professor students can address an e-mail to marco.doria@unige.it or agree with him a meeting at ther end of a lesson.
Exam Board
MARCO DORIA (President)
PAOLO CALCAGNO
LUISA PICCINNO (Substitute)
LESSONS
LESSONS START
2° semester.
Class schedule
L'orario di tutti gli insegnamenti è consultabile all'indirizzo EasyAcademy.
EXAMS
EXAM DESCRIPTION
Oral exam
ASSESSMENT METHODS
Oral exam with questions on main topics discussed in the course. There will be initially some general questions to measure the skills of positioning specific matters in wider contexts and, at the same time, the skill in utilizing the technical language of the discipline to communicate clearly and unambiguously In a second step more detalied questions will make possible to appreciate the ability of interconnecting topics developing deeper analysis.
FURTHER INFORMATION
Further information for not attending students.
Not attending students have to prepare the same general program of the course working on the texts mentioned in bibliography. Addressing the professor via email or via teams they could receive additional information and suggestions in order to improve their knowledge and to prepare the exam.
Agenda 2030 - Sustainable Development Goals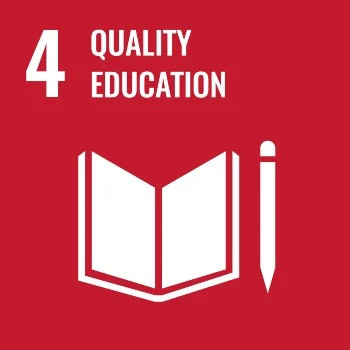 Quality education