CODE
66879
ACADEMIC YEAR
2023/2024
CREDITS
SCIENTIFIC DISCIPLINARY SECTOR
M-PSI/01
LANGUAGE
Italian
TEACHING LOCATION
SEMESTER
2° Semester
PREREQUISITES

Propedeuticità in uscita

Questo insegnamento è propedeutico per gli insegnamenti:

EDUCATIONAL SCIENCES 10841 (coorte 2023/2024)
GENERAL PSYCHOLOGY 66879 2023
EDUCATIONAL SCIENCES 10841 (coorte 2023/2024)
GENERAL PSYCHOLOGY 66879 2023
EDUCATIONAL SCIENCES 10841 (coorte 2023/2024)
GENERAL PSYCHOLOGY 66879 2023
EDUCATIONAL SCIENCES 10841 (coorte 2023/2024)
GENERAL PSYCHOLOGY 66879 2023
EDUCATIONAL SCIENCES 10841 (coorte 2023/2024)
GENERAL PSYCHOLOGY 66879 2023
EDUCATIONAL SCIENCES 10841 (coorte 2023/2024)
GENERAL PSYCHOLOGY 66879 2023
EDUCATIONAL SCIENCES 10841 (coorte 2023/2024)
GENERAL PSYCHOLOGY 66879 2023
EDUCATIONAL SCIENCES 10841 (coorte 2023/2024)
GENERAL PSYCHOLOGY 66879 2023
EDUCATIONAL SCIENCES 10841 (coorte 2023/2024)
GENERAL PSYCHOLOGY 66879 2023

MODULES
Questo insegnamento è un modulo di:
TEACHING MATERIALS
AULAWEB
OVERVIEW
The class is a part of course on Basis in Psychology and Sociology. It provides basis in psychology as a science. Main psychological theories and methods used to demonstrate them will be discussed.
AIMS AND CONTENT
LEARNING OUTCOMES
Provide Historical and epistemological basis. Study biological basis and review the main objects of interest of this branch of knowledge comparing different approaches.
AIMS AND LEARNING OUTCOMES
At the end of the course the student will be able to:
- Identify basic concepts and research results, and give examples of integrative themes of psychology.
-Draw appropriate, logical and objective conclusions about behaviour and mental processes from empirical evidence.
- Use the knowledge acquired in everyday situations and to make your professional action in education more effective
TEACHING METHODS
Frontal lessons, individual activities
SYLLABUS/CONTENT
Naive psychology and scientific psychology; historic background; Study: Method and strategy; research and methods; perception; attention; learning; memory; reading and comprehension; language and communication; thinking and reasoning
RECOMMENDED READING/BIBLIOGRAPHY
1. Cornoldi, C. & Tagliabue, M. (2013). Incontro con la psicologia. Il Mulino ed.
2. Legrenzi, P. & Jacomuzzi, A. (2021). Fondamenti di Psicologia generale, Il Mulino ed.
3. Materials provided on Aulaweb
TEACHERS AND EXAM BOARD
CATERINA ARTUSO
Ricevimento: The Professor can be reached via e-mail to set an appointment, caterina.artuso@unige.it
Exam Board
CATERINA ARTUSO (President)
DAVID GIOFRE'
VALERIA SILVIA PANDOLFINI (President Substitute)
LESSONS
LESSONS START
Lessons start in the Semester 2.
Please register to Aula Web to get access to the course materials and to receive regular updates on office hours and other information related to this course.
Class schedule
EXAMS
EXAM DESCRIPTION
Written test with open questions (brief response)
It is mandatory to register for the exam through the AulaWeb student portal.
ASSESSMENT METHODS
Written exam will include open questions on texts and materials introduced during the lessons
The student will have to show i) to have acquired and learnt the teaching contents; ii) use the appropriate scientific lexicon; iii) critically analyze the acquired contents
FURTHER INFORMATION
Although the lectures will be delivered in Italian, International students are invited to contact the Lecturer for an alternative course program in English
Students possessing a "DSA certification", having disability or other special educational needs are advised to contact the teacher at the beginning of the course to agree on teaching and examination methods which, in accordance with the teaching objectives, take into account individual learning methods.
Students are referred to the Aulaweb platform for any updates that may become necessary during the course of the academic year (both with regard to the methods of delivery and examination).
Agenda 2030 - Sustainable Development Goals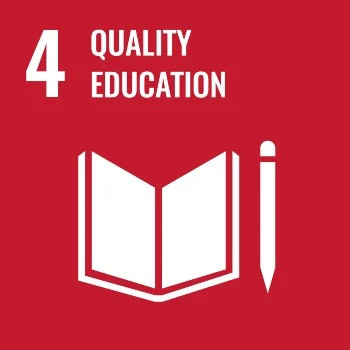 Quality education
OpenBadge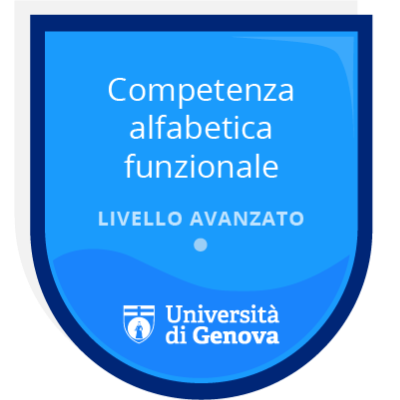 PRO3 - Soft skills - Alfabetica avanzato 1 - A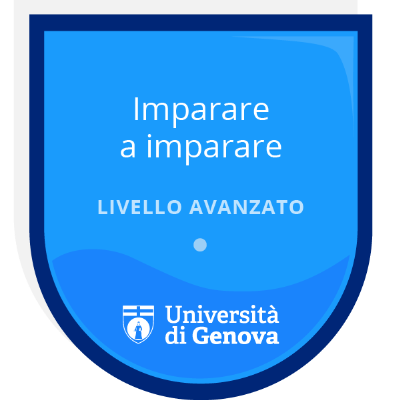 PRO3 - Soft skills - Imparare a imparare avanzato 1 - A