| | |
| --- | --- |
| CODE | 108895 |
| ACADEMIC YEAR | 2023/2024 |
| CREDITS | |
| SCIENTIFIC DISCIPLINARY SECTOR | M-DEA/01 |
| TEACHING LOCATION | |
| SEMESTER | 2° Semester |
| TEACHING MATERIALS | AULAWEB |
OVERVIEW
«How inappropriate is to call this planet Earth, when clearly is Ocean?» wonders the oceanographer Clarke (in Favole 2020). Indeed, «writing of history without putting inside some water is leaving something behind. The human experience has never been that dry» (Worster in Van Aken 2021:143). Thie short seminar has the goal to tackle these solicitations by talking about water and hydric knowledge, particularly in a time of great concern for the impact of climate change on specific populations who, by living near the water or in contexts of water scarcity, are more affected.Seas and Oceans represent furthermore a very important source of absorption of CO2 emissions, wat superior to those of the rainforests. Kanaka maoli (native hawaiian) knowledge reminds us that in a few years Mari e Oceani rappresentano inoltre una fonte importante di cattura delle emissioni di CO2, ben superiore alle foreste pluviali. Per questo il nativo hawaiiano Nainoa Thompson ci ricorda che tra non molti anni «we risk not to breath anylonger! Four out of five breaths we take come from the ocean» (2017).
AIMS AND CONTENT
LEARNING OUTCOMES
The seminar has the objective to prepare students to talking and writing about water and hydris knowledge in a moment when climate change strongly impacts human populations, with both rising sea levels and droughts.
AIMS AND LEARNING OUTCOMES
Throught the direct participation of students, the seminar provides the rudimental instruments for the elaboration of a critical approach, non conventional, inclusive and decolonial in talking about marine issues. Thanks to class exercises, both in written and oral form, the folowing objectives wil be met:
1- Development of observative and interpretative skills of water phenomena
2- Exercise of critical thinking on those social phenomena involving water systems
3- Drafting of short texts and and of effective oral presentations
4- Capacity to recognize and size one's own abilities: concentration, critical thiniking on a specific matter or task, complexity management and autonomy in decision making
5- Capacity to develop one's own immagination and creativity, ciritical reflections, strategic thinking, problem solving, self-consciousness and capacity to transform ideas into acttions
TEACHING METHODS
Classes will be held in the seminar mode.
Homework will be assigned day by day in order to stimulate debates, activate cooperative work and practice on flipped education.
Those participating to the seminar will be called to expose orally in class their researches, individualy or in groups, according to the Didactic by project modality.
The evaluation of the students is based on presence, active participation in class and the final written essay.
SYLLABUS/CONTENT
The seminar is organized accoring to the following schedule:
First lesson: theoretical lesson on the sea, the knowledge and practices of some, selected, sea people
Second class: participatory class on the Pacific Ocean and the Mediterranean Sea observed in a hydrographic and socio-ecologic perspective
Third class: participatory class which will compare and connect contexts and cultures only apparently distant, such as the marine and the mountain dwellers. In particular a connection will be traced between ecological marine contexts and the Sea Alps, between commercial trails of salt and anchovies and highland coral reefs
RECOMMENDED READING/BIBLIOGRAPHY
Readings will be recommended and assigned on the first day
TEACHERS AND EXAM BOARD
Exam Board
GAIA COTTINO (President)
MARCO AIME
SALVATORE BRUNO BARBA (Substitute)
LESSONS
LESSONS START
Yet to be defined
Class schedule
L'orario di tutti gli insegnamenti è consultabile all'indirizzo EasyAcademy.
EXAMS
EXAM DESCRIPTION
The final exam will consist in a written essay and it will average with the quality of class participation and home/cass exercises.
ASSESSMENT METHODS
Asessment is based on presence, active participation in class and the final written essay.
FURTHER INFORMATION
For further information write to gaia.cottino@unige.it
OpenBadge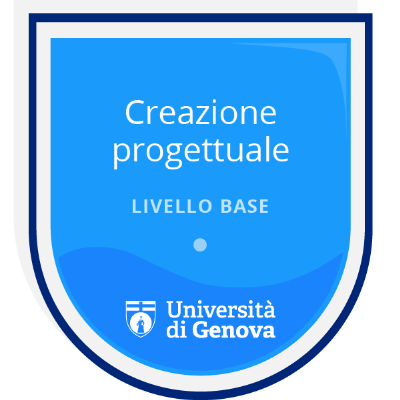 PRO3 - Soft skills - Creazione progettuale base 1 - A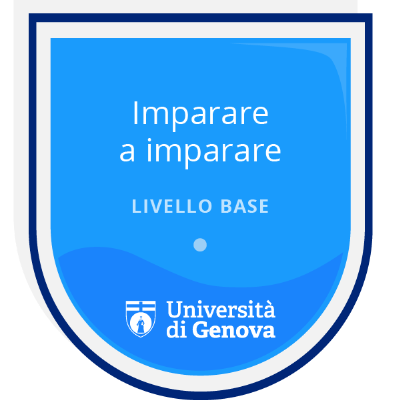 PRO3 - Soft skills - Imparare a imparare base 1 - A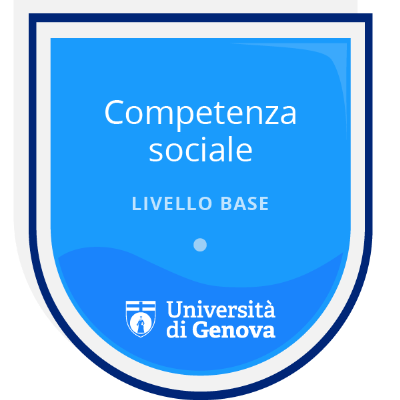 PRO3 - Soft skills - Sociale base 1 - A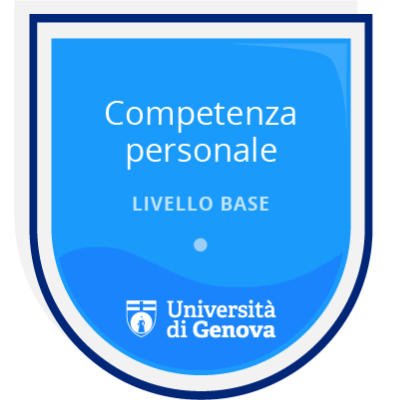 PRO3 - Soft skills - Personale base 1 - A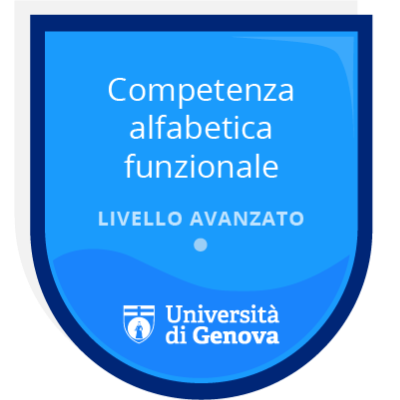 PRO3 - Soft skills - Alfabetica avanzato 1 - A